If you have a computer, whether you enjoy this technology or not, you need to protect it at all times. Ideally, the best way to do this is by having a case. If you do not want to buy one, then these DIY computer case projects are what you need! They will provide protection and add beauty and style to your computer. DIY computer case projects are a way to get your computer case designed according to your style and protect your desktop or laptop. Whether you are into gaming, or laptop, or transporting a desktop, there is just about any design to fit your style and preference.
There are different designs and styles that you can choose from as well as colors and materials. This DIY computer case collection is a compilation of various projects you can refer to when you wish to know how to make a protective computer case for your desktop machine. By the end of this LIST OF DIY computer case projects, you will have full knowledge of how you can easily make a DIY computer case by using materials like foam core, duct tape and changing the looks of your computer case with bright acrylic paint. Your creative mind will be on top gear, and your creative juices will flow freely. "
How To Mod A Computer Case
Getting a computer case might not require much, but if you want to modify it to your own custom style, you need to be creative. Have a plan, disassemble computer case parts, paint them, modify and then reassemble them. This is the first step toward a superior Desktop. This is the process of modifying your existing case to make it look more attractive and feel more comfortable. Your material list should start with a suitable computer case. Map out on paper the way you want it t be set up, then disassemble the case. And if you require painting, do so before you mod and create new parts because removing paint is so much easier than applying it.
DIY Wooden Computer Case
If you want a wooden computer case, you can make one yourself. Enjoy an awesome look for your computer with the DIY Wooden Computer Case. You'll find it is simple to reproduce, just add paint! Get the standard computer parts, assemble them, and have a unique-looking computer to match your style! Make this case one-of-a-kind. This wooden computer case is a fantastic way to decorate your study or office.
DIY Wooden Computer Case
There is nothing as satisfying as having your hands-on something and seeing it transform into a beautiful DIY wooden computer case. Ready to get started on your computer case? You're going to use a frame that holds everything together. Then, you'll need to smooth out the wood with a Dremel tool to get rid of scratches. Next, you'll have to install the fans, controllers, and power supply. It's very challenging and hard but worth the time to build this masterpiece. You don't have to rush the process because you can take your time in doing it.
How To Build A Wooden Computer Case
When you're building your own computer, it would be nice if you can get a cheap option when it comes to the computer case. Building a computer case might sound like an expensive idea, but once you buy the wood and its accessories, it will cost less than $100. When you start putting everything together for this DIY computer case, you're going to save even more money since you won't need anyone else's help. If you're looking to save money and have fun in the process, this case would be an excellent project. It can house the guts for a video editing computer (or whatever you want) with some crafty modular organization. It should look something like this when you're done: Now to assemble!
How To Build A Lego Computer Case
LEGO is one of the best toys that we had to play with during our childhood days. These days, people are coming up with different ways of using these blocks. This guide shows you exactly how to create a custom computer case out of Lego. Find a picture of what you want your design to look like, then get hold of some Lego and start working on creating it. It's fun to build and fun to use − perfect! Gather Lego pieces that you will be using for the case. Look for those with rounded corners like the circular ones. You will need more of these and more grey lego pieces to make your design look smoother.
DIY Travel Computer Case
Are you a travel enthusiast? Do you love spontaneous adventures? If so, carry your laptop in style with our DIY Travel Computer Laptop Case project by using simple construction techniques. Designing and making a case is a great way to show off your computer expertise and protect your equipment. Decide where you need access, such as the top or back area. Then add paneling or a lid to cover the system. You will find many projects you can make with ease, which have detailed instructions with pictures. This travel computer case project is a good fit for any level of woodworker from beginner to expert. All you need are some basic tools that are available at your local hardware store and a few days of time.
DIY Computer Case With Aerocool Dream Box
Take your computer case-building skills to the next level with this starter kit from Aerocool. The Dream Box comes with 188 pieces that you can assemble in any way that you choose, allowing you to build the exact computer case you've envisioned. Building your own PC case is easier than you might think with the Aerocool Dream Box, a DIY set that allows you to construct a chassis limited only by your imagination. Use it to build your own PC case and dominate online gaming, or create something truly one-of-a-kinds like a coat hanger, table, lamp, or toy. The possibilities are endless! From office toys to table lamps, the possibilities are literally limitless.
DIY Computer Case With Wood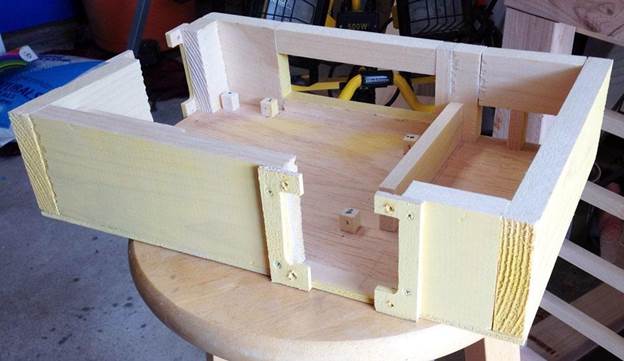 This is a great project for anyone who has basic woodworking experience and the proper tools. It will allow you to create a unique computer case for yourself or someone else that is durable, practical, and easy to upgrade. The pieces will need to be measured, cut, and sanded until they are perfectly smooth. You will also want to add holes for screws and make sure your partitions are in the right place. Follow these instructions carefully in order to end up with a box that fits your needs and looks great while doing it.
DIY Personalized Computer Cases
Create your own stylish computer cover by tracing your favorite design onto vinyl paper, cutting it out, and laminating it to a computer case with Mod Podge. The process is easy and makes your computer more unique when you add any pattern, logo, or even a photo. Add flair to your cover by adding words or designs for just a few dollars and about an hour of time. Make sure to take measurements as we did before making patterns or cuts. You wouldn't want a poorly fitting cover after all! You can also add images or designs by cutting them out as well and attaching them face down. These covers are easily swapped out or personalized at any time!
DIY Small Computer Case
This DIY computer case is made of brittle glass and aluminum, which is just like any other DIY computer case, you make at home. You can easily install all the parts and have your favorite desktop running in no time. With the simple structure of this small computer case, you can comfortably make it whenever you need one. It is also cheap when compared to buying a small computer case as it is inexpensive. This DIY computer case is custom designed to give you maximum fitting space and comes with powerful software that will assist you in creating a DIY computer case of your own.
DIY Wooden Computer Case
Making a wooden computer case is still a neat project that anyone can accomplish. There are several ways to approach the building of this case. You can design your own or even find a premade template on the Internet. Either way, you need to understand the components. You will also have to decide what wood best suits the design and all of the hardware that goes with it. If you are reading this right now and have never built your own custom PC, I can only encourage you to give it a try.
Give yourself plenty of time to complete the build because a mistake will cost you more time than expected. Also, remember that there's no need to get frustrated and even if the computer fails to boot on the first attempt, things are not lost. Use the experience and knowledge gained from that process to improve on your next build.
DIY Computer Case using Ikea Ribba Picture Frames
If you are looking for a unique and affordable way to turn your computer into a piece of stylish art, then why not build your own DIY Computer Case using Ikea Ribba Picture Frames. You'll be able to customize it to suit your individual tastes. Each case is made from two frames that are bonded together. It can be built in minutes, will fit any motherboard, and is even capable of fitting a heavy graphical unit as well.
DIY PC Case Under $20
Looking for something new to DIY? Check out this really cool computer case design that we found on Pinterest. Keep your computer cool on a budget! The Next Generation DIY PC Case Under $20. The build quality is great, the design is optimized for high cooling performance, and designed for those who seek low noise and high airflow. Best of all, no crazy screws or any form of tool whatsoever, just simple push pins.
How To Build A PC Case From Scratch
We'll show you how to take an old PC and make it new again. This method uses cheap materials, but the results will give any free PC you find a futuristic look. The main advantage of this technique is that you can change the outer appearance whenever you like without tampering with the components. You just need to build a new cover and screw it on! The benefit of this build is that only the outer shell needs to be removed, and the components can stay inside the outer shell for whatever reason that changes your design. You just remove 4 screws and slide the shell on or off.
DIY PC Case
There are a lot of alternatives that you can use to make your custom DIY computer case. The Laminated floorboard is one of them. It has a super hard layer and it is good to use. You can cut out your pieces, glue them, mark, drill for ventilation, and use a glass transparent case for embellishment. You will have the freedom to design your own computer case from scratch and make it unique.
How To Make A Modern PC Case
This video explains a clean, modern, and fashionable way of making a computer case. Firstly, you have to take out the panel and other valuables after you wash the case completely then spray. The next section is to measure the clear glass window and cut it off. Lastly, assemble everything again. To make a modern pc case, you need to start with an old computer case such as a mac pro. If its condition requires, you may clean it and spray paint it. Next, remove the invaluable parts of the case but leave the panel on. Cut off a clear glass window required for the side panel and assemble everything after putting the motherboard back in. Your new modern pc case is complete!
DIY Computer Case Engraving
How can you customize your computer? Engraving is a fun way to personalize your computer and make it unique. You can create a one-of-a-kind design using stencils or use online software to help you along the way. You will need Dupli Color mirage paint and other equipment to help you engrave. Make your computer case stand out by adding a personal touch: engrave a design that is unique to you. First, draw out your plan. Mask the areas of your computer case that will not be painted. Then, use Dupli Color Mirage paint to add approximately 5 layers of paint. Finish up with sanding, chalking, etching, and added decorations!
DIY Computer Case
This exciting DIY Computer Case Tutorial will show you how to cut and assemble a computer case out of acrylic and install the motherboard and power supply. This DIY computer case will help save space and provide a clean, sleek look for your desktop. The acrylic panel provides more visibility for the hardware. A few strategically placed heat sinks are also effective in helping to regulate heat and reduce noise. We'll recommend a few fans to help regulate heat and reduce noise and an easy one-button startup system instead of two wires. When you finish, you'll have an exquisitely clear case that's easy to maintain, has smoother airflow, and operates more quietly than most standard computer cases.
DIY Laptop Case
Now that you've built your own computer, it's time to make a custom case for it. With just a few felt sheets, a decorative zipper, and some fabric glue, you can create one that's as unique as your new machine. It's also really easy: just glue the pieces together, cut out your case, attach the zipper, and hem—done! The project gets bonus points for being eco-friendly.
DIY PC Case
This DIY gaming PC case features aluminum panels, acrylic glass, and a cherry wood veneer to make this computer look incredible. It is designed for good airflow and quiet operation. Follow the complete guide to the end. If you want to make it yourself, it's easy enough if you already own the machines needed like a laser cutter and CNC milling machine. The case also has glass side panels and two large fans for a silent operation. It looks sleek and minimalistic with that nice touch of cherry wood veneer.
Card Box Computer Case
This computer case is a great DIY craft and it is made of a card box so you can make one yourself. Super exquisite and cheap. Creating this card box computer case is super fun! It can be as easy as cutting a hole in the box for your power supply and sticking it inside, or you can get creative with vent tunnels, spacers, and different materials. This model has a mesh tunnel and uses a laser-cut stencil on the side.