DIY disc golf basket projects provide you with an ideal opportunity to develop something that suits your requirements and needs. And, if you are a novice, these disk golf baskets will still help you understand the ins and outs of disc golfing as you develop your custom-made equipment. Read on for informative DIY disc golf basket projects that will give you top tips for designing your basket for your playroom or playgrounds. Get creative and decide which basket would work best for your home course. You can easily DIY it with some basic tools and supplies by following our series of ideas.
DIY Disc Golf Basket Blueprints
Playing disc golf with your friends is a great way to spend a Saturday afternoon, and even more, fun when you can challenge each other to a game no matter where you are. With these easy DIYs, you can make your disc golf basket and take your game beyond the confines of the nearest course. As a disc golf enthusiast, you may want to customize your basket for practice. However, it is advisable to have the right information and knowledge of various baskets you'll find at local courses before making your customized disc-golf basket. Carefully chosen plans will help you design and build a basket within your budget.
Disc Golf Basket
Everything you need to build your own hardware disc golf basket. This tutorial places a special emphasis on using sturdy but inexpensive materials like rebar and chain link fencing. You'll also learn to cut chains, assemble the bucket, and drill holes in the correct spots. It'll be fun! Improve your disc golf skills by building this functional easy-to-assemble target that's made of affordable and efficient hardware. With this step-by-step, easy-to-follow tutorial, you'll learn to build a bucket that will have you mastering holes in one in no time.
How To Make Disc Golf Basket
On the one hand, having a homemade disc golf basket will allow you to enjoy the game while on vacation. On the other hand, your friends and family will be so impressed by what you created that they'll want to learn more about disc golf and possibly join you in a game or two. This guide takes you through each step of building your very own disc golf basket. This easy-to-follow DIY guide explains how to make your very own Disc Golf Basket. Learn how to assemble and install a Disc Golf Basket so you can enjoy a game with your friends and family year-round. Make sure to follow the tips to prevent flooding.
Easy Frisbee Golf Basket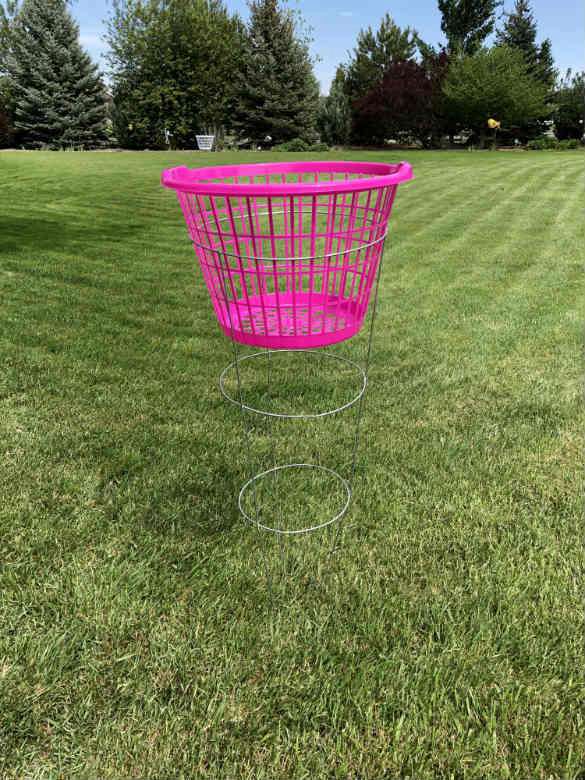 Take your love of Frisbee to the next level with this easy-to-follow guide for building your own Frisbee Golf Basket. With all of the materials you can purchase from your local garden shop or department store, these are much cheaper than purchasing a branded golf basket. This guide details the steps to assemble your own practice Frisbee golf basket by using less than a dozen materials that all cost less than $20. You'll have so much fun building this basket, and more fun playing Frisbee with family and friends.
How To Make A Disc Golf Basket
Making your golf disc basket is a great way to practice your skills. You can use this as a teaching tool or just to hone your throwing skills. We'll show you how to make a sturdy basket that can hold up to many shots and games. Your throwing skills will thank you for it! Great for beginners and skilled players, this guide shows you how to make a disc golf basket and putter. The kit includes the tools and parts you need to construct your own sturdy, safe basket that you can use when practicing your course or teaching others how to play.
Easy Disc Golf Basket
As a disc golfer, you want to improve and get better at the game. Practicing at your local disc golf course is a lot of fun. If you can't make it there often enough, you miss out on your goals. But what if there was an easy way to install your very own basket in your backyard? This disc golf basket is a bit different than most. The Easy Disc Golf Basket is a good choice for the player on a budget, and it's very portable. Its unique features include, it is sturdy, weather-resistant, and rust-resistant. Best of all, it is low cost.
Building A Disc Golf Basket
Disc golf is fun. It's a great way to hone your skills and enjoy the outdoors. Building a disc golf basket gives you more time on the course than spending money buying one. Learn how to use the tools around you, apply creative hacks and tricks, find materials in your garage, and build a professional disc golf basket. Building a disc golf basket is fun, inexpensive, and relatively easy to do. In this process, you will be guided step-by-step through the entire building process to give players of all levels the ability to hone their throwing skills on their disc golf range.
Disc Golf Basket 55 Gallon Drum
Basket Drums are constructed of a 55-gallon galvanized steel drum with a polyethylene rim. Finishing is either zinc plate or enamel paint. With a threaded access hole on the side and a welded ring attached to the middle band, they can be easily mounted on any convenient platform. Just drill some holes in a bucket, attach the pole, and you've got a basket that is perfect for any course. They'll hold up to all the drives that throw at it and look great to boot.
DIY Disc Golf Basket
This disc golf basket is made from tires, chains, and gas fittings. It's a bit more work than buying a pre-made disc golf basket, but you end up with something uniquely customized. This guide shows you how to create this disc golf basket in 60 easy steps. Make your disc golf basket with a DIY guide. All the different components are laid out so that they can be easily identified and understood. This basket is a great option for those who are looking to get creative and make their own uniquely customized option.
Easy Disc Golf Basket DIY
Start a new project with a do-it-yourself disc golf catch basket. This simple design uses galvanized pipes and fittings to make the backboard, frame, and target. PVC pipes are used to make the chain stand. Together these materials create a sturdy yet flexible target that can stand up to regular use. This is a great project for those just starting in DIY or experienced at something new! This easy DIY project shows you how to make your disc golf basket using readily available materials.
How To Make A Disc Golf Basket
Tired of running to the store to buy a disc golf basket? Want to make one in the comfort of your own home? Well, today, you're going to learn how to make a DIY disc golf basket using scrap items. Using items found in the trash or donated, you can turn those into high-quality disc golf baskets. With a little help from this video and some materials that you can find around the house, you'll be making your disc golf basket in no time. The chain is attached to the pole by a stainless steel bolt. The bolts are held in place by nuts welded onto the end of the basket.
Portable Mini Disc Golf Basket
Whether you already have a disc golf basket that's fixed and therefore not flexible enough for you to move around, or if you would love to have a basket you can practice with indoors and outdoors, this easy to follow guide will show you how to make your own portable mini disc golf basket. It is simple, inexpensive, and quick to make. Attempt this if you would love to have a basket you can practice with indoors and outdoors.
$11 Golf Disc Basket
With this DIY tutorial, you can easily make your disc golf basket for just a tiny fraction of the price you would have to pay for a store-bought one. The best thing is that you don't have to compromise on the quality at all, as it will work just fine in your backyard and on the actual course. It can be constructed with materials found around the house or purchased for almost next to nothing and doesn't sacrifice the quality of play.
How To Build A Disc Golf Target Basket
Get your game up with this disc golf target basket that you can build yourself for less than $20! This basket features 12 chains, which catch discs with ease. This disc golf basket is made with a direct funnel design and gives you a large target for practice accessible from multiple angles. The target itself has no moving parts, and the whole thing can be made in one afternoon using just basic tools such as a power drill and a wrench. You'll need to assemble it, but the directions are simple enough to follow. Once you've got your disc golf target built, there's only one thing left to do.
How To Build A Wooden Disc Golf Basket
While the official rules of disc golf specify that a disc golf basket consists of metal chains and a basket, many players enjoy other types of targets. This article details how to build a wooden disc golf basket from plywood and lumber. While this target won't hold discs as securely as a metallic model, it is viable for recreational play. The project requires intermediate woodworking skills and tools, takes about 1 hour to complete, and costs about $20 in materials.
Disc Golf Basket Out Of A Shopping Cart
This video will show you how to turn that old storage cart into a disc golf basket. There are always carts lingering around the parking lots, and this is a great way to recycle them and put them to good use. This video tutorial demonstrates how to convert an old shopping cart into a golf disc basket. If followed in the right manner, the process will help you build your golf disc basket within a short time.
Affordable Disc Golf Basket
The Frisbee golf basket is out of reach for most hobby players, with a price that's often over 500 euros. If you're serious about this sport and have the space to put up your basket, we've got a great alternative for you. We'll teach you how to make a disc golf basket for a fraction of the cost. If you have basic welding skills, you can make this sturdy disc golf basket for a fraction of the retail price. It comes with assembly instructions and all the materials required, except wheels and sand.
Simple Budget Golf Disc Basket
Do you have minimal building skills or have never built a disc golf basket before? This DIY guide will get you started on your journey in disc golf and teach you how to build sturdy disc golf baskets. This is an inexpensive way to build homemade disc golf baskets. It cost less than 30 dollars, and the most expensive item is a fence post which you probably already have lying around in your backyard. This project is suitable for someone who has some DIY experience but doesn't need to be extremely skilled to build it. With this guide, you will get step-by-step instructions on how to build this project from start to finish, and if you get stuck along the way, there will be links at the bottom of every page for further assistance."
Homemade Disc Golf Basket
This is a portable disc golf basket that resembles baskets used in actual disc golf courses. You can use this basket to improve your putting stroke or use it in actual disc golf games with friends and family. The basket design allows it to catch and hold while being portable. It can be used in your home, office, or backyard. The Homemade Disc Golf Basket is designed for easy installation, durability, and maximum fun! Improve your putting skills or play with friends and family by installing a disc golf goal in your yard.
Homemade Disc Golf Basket From Umbrella
The umbrella project is an excellent example of what to do with a little imagination and an old umbrella. Besides disc golf, the basket has many uses, including holding all of your coiled-up ropes and cords. Once finished, you will be able to play disc golf in style while keeping your discs safe. You may even try to get the whole family involved in this project as you work together to figure out how to make this disc golf basket into a reality. Disc golf is fast becoming one of the most popular recreational sports in the nation and best to play for the people of all ages.