If you're seeking a better way to hang your artwork rather than sticking it in a prefabricated frame, then you're in the right place. Traditional frames are expensive, and hanging them on the wall straight from the store dominates your walls with generic black or white borders. Here we'll show you how to build DIY poster frame ideas with dimensional features and multiple ways to display your work. When intended as a one-time project (for example, as a wedding gift or as an elaborate decoration for a holiday), it will make an attractive and unique focal point for any house room.
This collection will show you how to build your frame from simple materials for a fraction of the price of a premade one and add more visual stimulation to your walls. In addition, if you have several prints that need to be hung, this is a more cost-effective option than purchasing several frames, plus it is a lot easier than any other method. Our DIY poster frame ideas are ideal for your home, classroom, or office. Think outside the box and challenge yourself with these projects.
DIY Poster Frame
These easy-to-make DIY poster frames can be hung using anything from hooks to nails, so you can pick which system works best for you. The result is a canvas of artwork bound tightly, making it easy to view and more manageable if you have to move it. Not only are they great for posters, but you can use them on all sorts of craft projects, making them ideal for your next creation. Some of the pro tips to follow are:
Try using the nails to hang these photo frames, it will provide extra durability and sturdiness to your DIY masterpiece.
I suggest making a simple frame that may be used as a template so you can change the poster from time to time w.r.t decorations and need of instance.
Other Crafts
DIY Movie Frame
Most of us can remember the days where walking into the wonderfully warm smell of fresh popcorn, walking to the aisle looking for our favorite spot in the theater, or walking out knowing we had just experienced a good movie. Now you can make your memory with our DIY Movie Poster Frame. With a fluorescent lamp assembly with switch, Corrugated Cardboard, Duct Tape, and a poster you picked out. This Awesome Home Decoration can come into your life for just 15 $.
DIY Pallet Frame:
Once you lay your eyes on this tutorial, you're sure to fall in love with it! The creative minds over at My Fabuless Life have designed a wood pallet post frame that is great for displaying prized artwork and more. The design has a square shape and is very sturdy. They recommend using a power drill, an electric screwdriver, and a hammer for this project. A large and sturdy pallet wood frame makes a perfect foundation for displaying your favorite posters, prints, and artwork. Inspired by mid-century furnishings and architecture, we've created a tutorial to show you how to create this vintage look without breaking the bank.
How To Make A Custom Poster Frame
Do not waste money on buying expensive frames. Instead, try making your frame with this DIY Custom Poster Frame tutorial. A perfect gift for any occasion, this poster frame is easy to make and can be made with scraps you have lying around - no need to spend money on new materials. This poster frame can also act as one of your home's decorative pieces that showcase your personality. Learn how to make the frame out of cheap supplies you can find at your local stores.
Vintage
Julia shows you step-by-step how to create a DIY vintage poster frame with an old window, some scrap wood, and a few other fun materials. It's the perfect way to hang up your favorite posters, postcards, or artwork! This DIY vintage poster frame is a cool and cost-effective way to display your favorite photos or posters. You can customize the color palette and size to fit your needs (or decor!) perfectly and then paint it any color you'd like! Follow her directions at Chris Loves Julia for endless design possibilities!
How to Make a DIY Poster Hanger from Scrap Wood
How To Frame A Poster For Less Than $10
Keep your collectible, vintage concert poster or art print protected with the help of this how-to design book. Everything you need to know about framing is covered in detail, including tips on determining your poster's size and style of frame, choosing poster board and backing boards, using templates to prepare the wood for cutting, routing and edge treatment with a router table, building a floating mount for framed posters, and finishing the project with a clear finish.
DIY Vintage Classroom Posters:
Learn how to create vintage-inspired poster frames to liven up your classroom or child's playroom. Creating these DIY Vintage-inspired classroom poster frames is pretty simple. You can grab an old frame from a thrift store, cut out a pencil silhouette, and swap it out with a figure from one of these Printshop stickers.
Budget-Friendly Way to Frame Big Posters and Prints:
This budget-friendly way to frame big posters and prints is a snazzy plexiglass finish that involves a poster, some craft paper, glue dots, and of course. This DIY project features a plexiglass finish for an elegant look but still keeps the cost under control. It's an easy project that you can do in 10 minutes or less.
DIY Swing-Open Poster Frame
Create a Changeable Display with a Swing-Open Poster frame. It's easy to transform any wall space with a single frame; no tools are needed. There's no need to swap out the entire frame to change what you're displaying—open the frame and hang a new poster inside. This easy-to-use design can make a room feel brand new every few months without requiring a full redecoration. Made from a single piece of wood, the two inlays slide in and out for a better look when not being used to display a poster. This can be hung on the wall, from the ceiling, from a tree, from anything. The possibilities are endless with this cool DIY project!
How To Build A Poster Frame
If you want to display a poster in your home but don't want to put holes in the walls, it's easy. This tutorial shows you what you need to create your poster frame! It's made out of wood and has two frames. The inner frame holds the poster, and the outer frame will help keep your poster safe. We stained our wood with wood stain to give it the color and protect it against water. We used small screws to attach the frames. The tutorial includes instructions on how to attach the hanging components so that you can hang up your framed poster!
DIY Wood Frame For Large Posters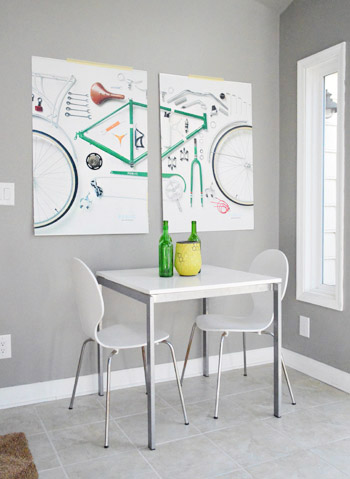 A gorgeous poster always makes the room beautiful. But the problem here is that you do not want to ruin its elegance by taping it to your wall because you know what should be done. Instead, hang it on a nice frame like this! Handmade wood frames are everywhere, but you can still make your own at home with this easy tutorial. This frame is very easy to make; therefore, you do not need to be a professional woodworker to do this. Just following this step-by-step tutorial, you will become a framing expert.
Simple DIY Poster Frame
Artwork can cost a small fortune, so create a custom frame for a poster or print with some flat timber molding and a handful of tools. Cut the timber to size and place it behind the poster. Use a stapler to hold it tightly in place. Stain the wood keeping its raw edges exposed, then loop wire through holes you drill. Hang up your beautiful new art piece. Hang IT up on the wall to get that fantastic framed look you were after for pennies on the dollar.
DIY Rustic Poster Frame
To build a rustic picture frame, select wood boards in the length and thickness you desire. Remove any rough edges with a palm router with a rabbet bit. Then, apply a thin layer of wood glue to the sides and ends of the wood boards. Set the mending plates adjacent to each other on the backside. This will add space when fitting together the picture frame sides for when you attach the picture frame rails in place. Fasten them with drywall screws spaced evenly apart. This can be done prior to gluing your boards together; however, doing so after the rails are already attached will be challenging.
DIY Poster Frame
There are some easy steps on how to make this poster frame. First of all, cut the thin sides using a miter saw, or hand saw. Make sure you get straight cuts. Next, take thin side pieces, thin triangle corners, and thin front/back panels. Cut the thin front/back panels into 6 cm lengths, then cut two T shape slots at each top. To do this, put an edge of a thin front/back post stick on top of the thin side piece slot at the top, mark where to cut on both thin frame sides. Take a saw and drill bit and cut out a small cross-section slot enough. It will be a superb masterpiece which can be done in a few minutes, and you'll surely admire it.
DIY Poster Frame
This DIY vintage wood poster frame is easy and beautiful to display on the walls of your home. It's a perfect decorative accessory for home decor and wall art. You can paint it any color you like, or you can just let it look the way it is. This is one of the most convenient and satisfying projects you can ever think of doing at home. With this, you get to add your touch and creativity to the frame. The design is so versatile it can accentuate any wall, whether you are looking for something unique to showcase an abstract painting or decorate your walls with vintage wallpaper. This budget-friendly budget piece of art is so easy to assemble - put the pieces together, hang on your wall and enjoy!
DIY Metal Framed Movie Posters
Make your DIY frame with this type of metal frame. These metal frames will be carved to certain specifications and put together for you. Pictures go inside the frame, giving you your own set of frames that comes out looking wonderful. Design your favorite characters, celebrities, presidents, historical figures, fictional army robots, or just about any topic that you'd like to put up on display. You now have a full set of frames that will look great in your living room or the movie room upstairs. It will be a superb DIY poster frame idea, and you'll surely admire making it.
DIY Cardboard  Poster Frame
This fabulous DIY poster frame is easy to make and holds your letter-sized or A4 size posters nicely. The main benefit it gives is the super clean and contemporary look of this frame. The crisp white back of the frame helps make your poster pop and stand out. The frame is easy to make at home, using cardboard. One of the neatest things about this frame is no additional tools or glues are needed. Aside from paper or posters, other items can be used to create a mosaic for the holder to keep the walls tidy. Easy step-by-step instructions will guide you through the creation. Your poster can then be changed regularly to suit your mood or the season.
Zombie Movie Frame
The ultimate addition to your man cave, this poster frame is a replica of the boarded-up windows you see in the Call of Duty 'Zombies' mode. The rusted nails and scattered wooden planks give it a decrepit look and make it look like zombies attacked you. Hang your zombie poster behind the window board--with a little help from your hammer and staining skills, that's sure to spook anyone who dares enter. This frame will add life and style to any living or media room and is a unique gift for gamers and fans of the series.
Hanging Poster Frame
This DIY hanging poster frame is a great way to display your favorite picture, painting, or artwork. You can create this neat-looking hanging poster frame using a few wooden pieces, glue, yarn, and a magnet through a simple DIY tutorial. It's an ideal option for people who have limited space. Whether you're trying to add some color to your room or show off your favorite painting, this DIY hanging poster frame will surely meet your needs. The best part is that it's easy to make. All you need are four wooden pieces, glue, yarn, and a magnet to hang on your wall.
Backlit LED Poster Frame Light Box
One of the finest ways is to display them on a lightbox is to have this one from Poster Corner. It is made from wood and has glass panels that can hold a double-sided poster. Each side of it features a dimmable LED light strip so you can adjust the lighting ratios as per your preference. A cool way to adorn your home theatre room or man cave, and everyone will surely admire it. It is durable, efficient, and affordable. It works well for classrooms, party events, fashion shows, business conference room decoration, etc.
DIY Spotify Glass Art
The parts for this project include a glass disk, a piece of paper, and glue. The process is easy, but it does take time for the glue to dry. In short, you put the paper in the glass disk and add a couple of drops of glue to it. Afterward, you add another layer of paper on top of the first one and add another two drops of glue. Then when you're done, you can add a layer three, four, or five! Even though the purpose of my project is to teach you how to make a glass cover with a circuit in a safe way without realizing it is a circuit you can even make by yourself without guidance from any specialist, just follow the video carefully.
DIY Movie Poster Frame Marquee
The DIY Style Movie Poster Frame Marquee will make your display look like it belongs in a famous movie theatre lobby. The frame is made from plywood and 2×4's and uses an outdoor strand of lights for illumination. It's a replica of the classic theatre marquee with lights placed behind holes in a thin piece of plywood. if you have or want to have a bit of the cinema look in your room, this will definitely do the trick.
Movie Display Frame
Any movie fan will love displaying their favorite posters and photos in this DIY movie poster equipped with a light-up marquee. Whether it represents an exciting night at the movies or a unique marketing idea, this movie poster is easy to create and will give your space a new feeling of excitement and energy. The LED light-up marquee is super easy to create. Insert your film reel into the center of the marquee and tighten the screws, plug into any standard outlet, and enjoy!
Easy DIY Poster Frame
There are lots of frames out there, but creating your own is fun. This project costs around $25 -$35, depending on the materials used. There are some nice qualities about DIY frames compared to store-bought ones. DIY frames can be different dimensions, which means the artwork appears more interesting overall. When framing a poster, there are several ways to go about mounting it into a frame. The trick is to find the best way that works for you. This guide will give you one example of how you might go about this.
DIY Poster Frame Tutorial
Poster frames are a great way to display gorgeous artwork. Here's a tutorial on how to make your own specific to the size of your art piece. Choose your favorite wood style, stain it your favorite color, cut the sides, center support, back piece, putty the sides, and then attach them. Here you have it! Easy peasy DIY with some cool cutouts that makes the artwork stand out. So, Go ahead, grab some pencils and art docs from around the house, and get started painting something you love! It's really simple yet a must-try.
DIY Paper Frame
Looking for a way to add a little bit of art to your home? Look no further than the DIY Paper Frame. This frame is very easy to create and would be a nice addition to any setting. It's perfect whether you want something simple and practical or need to add some character and fun in any room. Got plain white frames collecting dust around the house? We've got you covered. Add color to any room in your home with this ultra-fun, easy-to-make DIY Paper Frame.
DIY Poster Frames
There's no need to go and pick a bulky and expensive poster frame to give your piece the finished look. Just grab a saw and cut the wood to size, glue, and stain. You can even put different colors on different sides of it. Add the poster to your DIY poster frame, and you're done! The kit comes with wood and everything else; you need to make three different poster frames that fit into standard Ikea Ribba frames. These super sturdy DIY frames are a great way to add a unique touch to a room or give a unique gift!
DIY Large Scale Picture Frame
This DIY Large Scale Picture Frame is cleverly clever. The white illustration board creates the background space; the acrylic sheet acts as a divider, while the four wood boards act as the frame. This DIY is remarkably simple to do, with no tools required. It's easiest to select the size of the picture you would love to have in mind beforehand. This can be used for photography, paintings, drawings; portraits; kids' artworks, large-scale prints, photos, designs, and inspirations can now be displayed in your favorite room or space like kitchen, bedroom, living room, study room, etc.
DIY Cheap Poster Frame
Welcome to our DIY Cheap Poster Frame video walkthrough. The objective of this project is to make a poster frame that cheaply gives your posters that gallery look. Here we demonstrate the steps needed to make inexpensive poster frames that will display your artwork or photos attractively and professionally. This cheap and easy build, using only the tools and materials listed in the materials list and simple cuts described during the video, can be done by anyone.
How To Make A Poster Frame
If you love to decorate your walls with posters but can't afford a pricey ornate poster frame, this simple DIY project is the answer to your problem. You can make a very inexpensive yet elegant poster frame that you can use in any room of your home. Our poster frame is an inexpensive alternative to expensive large commercial frames you see at art shows and galleries. It serves as a great way to display your posters, photos, drawings, paintings, charts, or artwork in general. This photo frame can be made with simple tools and materials easily found around the house. The poster frame will make a great addition to your home decor.