It is a very common occurrence for people to lose pieces of their puzzle games, and when that happens, it can't be completed. Anyone who has played with a puzzle knows how annoying it is when you lose even one piece. There are a lot of ways to make your own puzzle board, but some are more complicated than others. So we decided to look into the web and figure out which ones were the best. We found 15 DIY Puzzle Boards Ideas that cover almost everything in making a puzzle board, from materials needed to the actual making process. You will get something different each time if you follow the instructions word-for-word.
You'll learn how to make a puzzle board in 15 different ways, and at the end of this guide, you'll have plenty of DIY Puzzle Boards Ideas to choose from. These puzzle boards are also great gifts for friends and family that love puzzles or jigsaw games, especially with the holidays coming up. They're easy to make and don't require much money at all. The ideas we gathered here can be made by anyone, even beginners, as long as they have some experience in crafting or DIY projects. These guides have easy-to-understand instructions with pictures for use as reference material. The finished products will be unique and useful not just for puzzles but other things as well!
How To Make A Puzzle Board
No more picking up puzzle pieces after every little bump in the table or surface. This puzzle board is a great way to make puzzles without the pain of pieces falling off the table. It is made with pre-sanded beech plywood for stability and durability and features an easy-to-use sliding tray that keeps the puzzle pieces in place during assembly. And since it's so big - it can take as many puzzle pieces as you want!
How To Make A Puzzle Board
First, you have to make your own puzzle. You can do that by drawing something on a piece of paper, or even by printing something off the internet. Once you've decided what you want to draw, cut out each piece with a knife or scissors so they can be used later on in the process. The second step is gluing the puzzle together so it fits perfectly inside the picture frame. Use glue that is strong enough to hold up over time. Once all your pieces are glued together, then it's time to put them into your frame. Make sure everything lines up neatly before attaching it to your board with finishing nails. This will allow them to stick out just enough for pulling off later when we're finished!
Jigsaw Puzzle Board
Don't have a puzzle board to make all those puzzles you ordered? No problem! You can make one yourself with this detailed guide. This is a simple DIY guide to creating your own jigsaw puzzle board. All you need is some old dry erase boards, E6000 glue, handles, white acrylic paint, a white foam sheet, a utility knife, and a roll of washi tape. We've included step-by-step instructions to make this project easy as can be.
How To Make A Puzzle Board
Learn how to make a puzzle board with this quick and easy time-lapse video guide. All you need is a bit of time and a few pieces of equipment that showed in this video tutorial and you'll be able to custom-make your own personalized puzzle board. Once you've finished, all that's left is to sit down and enjoy!
How To Make A Puzzle Tray With Storage
This DIY puzzle tray will keep you from having to clean up the pieces of your puzzle off the floor if your dog comes by and tries to take a nap on it, or if you cannot resist the urge to just want to kick the pieces of your puzzle apart. The design of this storage tray is pretty cool as well. It is easily stored in a way that makes it simple if you have pets running around because it can simply be put up under a table and out of sight when not in use, which will definitely deter any pets from knocking over a game.
DIY Puzzle Board With Drawers
This puzzle board is the perfect DIY project if you are the kind of person who loves puzzles. Once complete, you will have a dedicated place for your puzzles and all the space you need to store everything for your future projects. You can even use it as a nightstand or coffee table! The most exciting part is that it can easily be personalized to suit your needs by changing its shape, size and even adding more drawers!
DIY Puzzle Game Table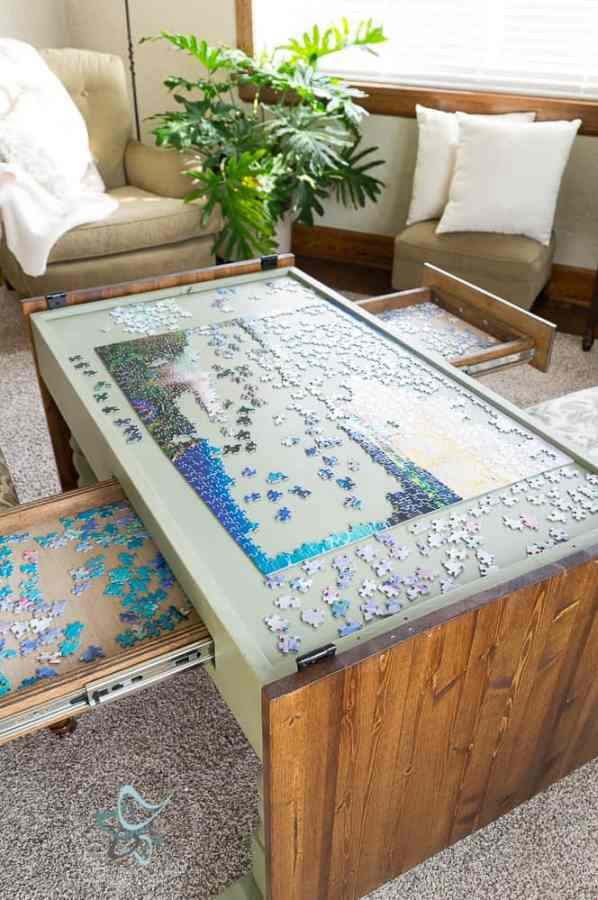 You have no excuse to have a boring afternoon with this puzzle table. Make your own, and you'll probably want to make more than one so that all your family members will be able to share it. It is an easy way to get all your family around the same table and share quality time. And if you are fond of board games and puzzles, this DIY puzzle table is for you. Yes, you can certainly buy puzzles and game tables, but making them gives them a personality that cannot be found in what you buy in stores.
How To Make A 1000 Piece Puzzle Board
Building a jigsaw puzzle can be a challenging experience, but it is even more challenging if you are missing parts of the puzzle or dealing with injuries to your hands that make it difficult to pick up puzzle pieces and manipulate them. Our 1000 piece jigsaw puzzles are high-quality cardboard that includes a box stand so that once you finish your jigsaw, you can display it on your wall or table.
DIY Puzzle Table
If you enjoy going on walks in the park or country hikes, you'll love this DIY Puzzle Table. While it's often difficult to find the time to put together a puzzle, you can use this puzzle board that comes with a table. The table has an open design and offers room for storage on the bottom shelf for all of your puzzle pieces, game boards, and other accessories. With its sleek, seamless design, this elegant piece will complement any decor.
Puzzle Board With Storage
In this video, we'll show you how to make a puzzle board with small storage space inside. We'll show you how to cut your board, build the storage compartment, join them together, and then wrap everything in felt fabric. Next, we'll show you how to cut a pool noodle into pieces to make it more portable - the puzzle board itself is pretty slim and lightweight, and easy to carry around. By storing your puzzles in between play sessions, they won't lose their shape since they're not constantly being taken apart and put back together.
DIY Puzzle Table
Are you handy with a power drill and circular saw? Willing to get a little creative? If so, even if you're new to DIY projects, you can build your own puzzle table. Making this table is easier than you may think and requires fewer tools than the previous projects. This video shows the step-by-step process for building one out of a solid oak tabletop, legs, drawer slides, drawer pulls, and hinges. Check the link in the description of this video and see how to make this awesome table.
DIY Simple Puzzle Board
If you want to make a puzzle board, you're in luck because this guide shows you how to make one from scratch. This is a great way to help kids learn and get better at playing jigsaw puzzle games. You'll need a large cardboard box, PVC or contact paper, measuring tape, scissors, hot glue gun, marker pen, and masking tape. The steps are easy and concise enough for even a beginner to work with.
How To Make A Puzzle Tray
While you may still have to take a look at the instructions to be able to this puzzle tray by yourself, given the step-by-step guide, it is quite easy. This puzzle tray is an ideal weekend project for beginner and experienced woodworkers. Made from 1x3 boards and quarter-inch plywood, this stylish tray can be customized to fit a variety of decors. Follow the detailed instructions and create your own puzzle tray.
DIY Puzzle Board
Make a bulletin-style puzzle board using a pre-made bulletin board with a wooden frame, wooden closet dowels, stencils, and mineral paint to encourage the family to have fun together. Looking for something to do on long car trips? When you're stuck at home during a blizzard or other emergency? Or if you're just looking for a way to encourage parent-child or grandparent-grandchild bonding time? You've found it!
DIY Jigsaw Puzzle Table
If you are a puzzle maniac but don't have enough room for them, this is a perfect solution for you. This drop-down puzzle table was made by Ron Tyree and it is amazing. This type of puzzle table doesn't take any space in your little apartment because it has specially designed hangers so it can drop down and be used as a normal puzzle table when you need it, and hang on the wall when you don't. When on the wall, the only downside to this type of puzzle table is that you can't rest your hand on it while working on a jigsaw. The upside is that you don't have to move the pieces around your house, because everyone can reach the table easily.