DIY puzzle mat ideas are a great way to keep your puzzles organized and safe from wear and tear. You get to choose the style, shape, color, and size of your mat, and it will be easy to roll up and store or transport whenever you want! These mats help you do the puzzle on a flat surface and keep your puzzle pieces safe so that you can do the same one again and again.
These Puzzle mats are great for storing, transporting, and playing jigsaw puzzles. The cost of a mat is not worth the benefits. But you don't have to spend money on a store-bought puzzle mat to enjoy all its benefits. You can create your DIY puzzle mat at home. We've even gathered some excellent DIY puzzle mat tutorials and designs for you to look through.
DIY Puzzle Mat Ideas
Store your puzzles in these DIY puzzle mats! You can easily roll them up, take them anywhere, or put them away for later play. DIY puzzle mats have never been easier with our list of 14 tutorials. Learn how to make these fun and unique puzzle mat designs for your family! Making a suitable puzzle mat can save you lots of cash. Here we offer some of the best DIY puzzle mat ideas and tutorials for puzzle lovers.
No-Sew Puzzle Mat With Fur
A hair salon floor mat that makes a great art piece! This is one unique puzzle mat. Made from the highest quality PVC tiles, this mat is comfortable to stand on, but it's also stained and fade-resistant. For easy maintenance, wipe clean with soap and water. Unleash your creativity and create custom shapes, or easily use the included templates to create a faux fur puzzle design. You can also choose a foam board as an alternative if you can't find any puzzle boards available. Next, we will add some fur to your new puzzle board (or foam board) and make it look even more fluffy!
How To Make Custom Jigsaw Puzzle
Jigsaw puzzles are a great way to kick back and relax. You can choose the difficulty level and then take some time to make a few shapes fit together. But what if you want to be a little more creative? That's where custom jigsaw puzzles come in. Now you can design any image that inspires you to create your custom jigsaw puzzle. A gradient twist on a traditional jigsaw puzzle allows for endless design possibilities for the perfect personalized gift.
Foldable Puzzle Mat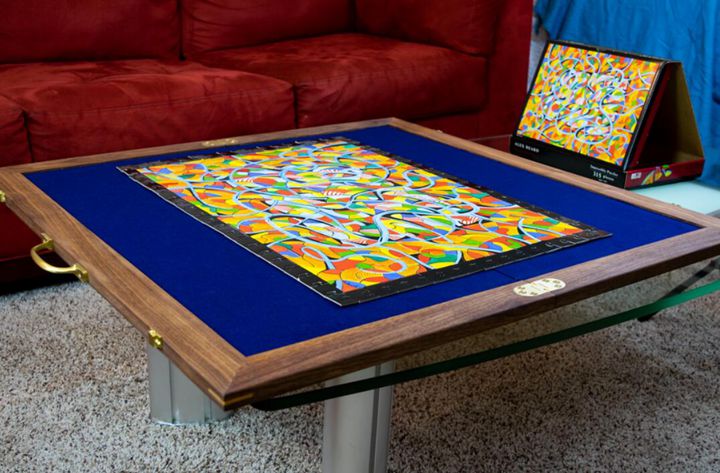 This is a professionally made, solid wood puzzle board that can be folded up and laid flat for easy storage. The butler hinges mean we can use it almost anywhere, and it's the perfect sturdy surface for those pieces that don't seem to want to fit together. The piece needed to look nice when in use and blend into our decor when not in use. We wanted it to include a lazy susan base so we can share the fun with friends or easily grab something on the other side while working.
DIY Puzzle Mat
There are many puzzles you can build today. If you love building puzzles of larger sizes, this DIY Puzzle mat is perfect. You don't even have to worry about running out of table space with it. With this DIY Puzzle Mat, you can easily roll up your puzzle while carrying it around so it will be kept safe from dust or any debris. So if you're ready to take a step into the world of professional puzzle building, let's get started.
DIY Roll Up Jigsaw Puzzle Map
This DIY roll-up jigsaw puzzle mat can distinguish between a stressful experience and a relaxing hobby. It makes it easy to relocate or store your project when you need to use your table, and it's made with just a few inexpensive materials. The result is a custom-sized mat that keeps your pieces in place while you work. To make it, you'll need inexpensive materials such as felt, a foam roller, and adhesive, which you can find online. Roll it up and work away after gluing one end of the felt to the foam roller and letting that dry! It's that simple!
How To Make Puzzle Mat
The jigsaw puzzle mat is one of the most efficient alternatives when laying out a puzzle on the floor. Here are some simple ways to make your puzzle mat, per your requirements and convenience. Do you often find yourself trying to make your puzzle fit on a table or the floor simultaneously? With this jigsaw puzzle mat, you will be able to roll it up and store it away once you are done working on your puzzle. A 2mm thick felt backing keeps your puzzle in place while you work on it – no need for gluing your puzzles again!
DIY Puzzle Mat For Kids
Are you looking for a way to keep your kids busy for hours and not destroy your house? Then this puzzle mat is just what you need. It provides hours of entertainment for the kids, yet it is easy to store by rolling up or tucking away when playtime is over. This DIY Puzzle Mat will help with storage and keep your kids entertained. Store it up for future use or transport it for play with ease. With this DIY tutorial, you'll learn to make one of your own. Save money and time with this cheap and easy puzzle mat! Up to you!
How To Make A Puzzle Mat
Are you and your family huge jigsaw puzzle people? Are the puzzles always a nuisance, and is there not enough space to keep them enjoying a little game time? Well, we have just the thing for you. You can DIY a puzzle mat for half the price of buying one. All you need is half a yard of felt material and a PVC tube, but that's it. Follow our simple step-by-step instructions for this great project! We will take you through the entire process from the first step to the last so that you don't have any problems with your mat.
How To Make Puzzle Mat
Are you looking for a simple, effective way to frame your puzzles and keep them all in one place? Making puzzle mats is much easier than you might think. This felt material is the most useful tool because it's thin but still durable. You can use the PVC tube to roll the puzzle mat up and transport it wherever you need to go. When all rolled up, use some velcro to keep everything together. This can be set up in minutes, so your puzzles have an easy to store and carry place without taking up much space or too much time to make.
DIY Sniffing Puzzle Mat
Dogs love sniffing, and this is what makes them dogs. This DIY Sniffing Puzzle Mat is an awesome solution to make your dog play freely while you're at work. Just cut out pieces of old jeans into different shapes and sizes, mix them with some treats and make your dog look for those. After a long day of work, he'll come home excited to show you what he's found. Made of durable, non-toxic material, colorful bones that are easy to grab and can be used as a maraca. It will be a great tool to give your dog the exercise and challenge it needs while keeping things clean.
DIY Portable Puzzle Mat Ideas
Do you want to solve your puzzle on the go, and you cannot find a solution to it? We have an amazing solution that will help you solve the problem. Our DIY Portable Puzzle Mat is the perfect way to store your small mini puzzles, and it's an upcycle project that uses elements that you most likely already have in your home. For example, the only thing you will need to buy is a large piece of felt. This project is easy enough to complete in a day and is stored anywhere, making it a plus. Solving puzzles on the go has never been easier with this DIY project!
Puzzler Puzzle Mat DIY
Puzzler is a simple, easy-to-make, flat mat for working jigsaw puzzles. Its unique design allows puzzles to be worked at will, rolled up, and stashed away between play sessions. Cut your craft felt to size and sew one seam, then attach the recycled gift wrap roller (with the included hardware), and in just minutes, you have an attractive piece of puzzle fun for all kinds of puzzles, even large ones!
Make a Puzzle Mat With Alphabets
Invest in your child's future with this DIY puzzle mat, which doubles as a learning tool and play area. They will never want to leave the floor! Create a fun and educational play space for your child that can be used repeatedly. You need some colorful foam, scissors, letters, numbers, or shapes cut from self-adhesive craft foam. You'll also need our specially designed template to create the puzzle areas. Get started today.
Foldable Puzzle Mat
Our amazing, foldable puzzle mat will be the solution to all your problems with your jigsaw puzzles. How many times have you had to unpack them and put them away again because you're short of space or that someone wants to use the table for something more 'important'? This foldable puzzle mat solves the one major challenge every puzzle owner has - no space. With this mat, all your worries are gone thanks to its foldable design, and you'll finally have room for other things! This will stop all that.